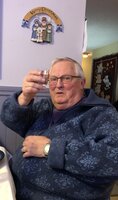 Ronald Frederick Misskey
It is with sadness we announce the passing of Ronald Fredrick Misskey who left us on February 14th, 2023. Ron leaves behind his wife Gloria Misskey of 56 years of marriage and a large family and extended family. Ron and Gloria had six sons, Matthew (wife Shauna Misskey), Michael (husband John Forabosco), Russell (wife Sharon Misskey), Robert (wife Lisa Misskey), Bradley (wife Effie Misskey), Brian (wife Anna Misskey) 15 grandchildren, 3 great grandchildren and 2 special nephews (Mel and Rocky Purves).
Ron was best known through his many years in business with Misskey Tire and Battery serving the local community, a business he took over from his father. Ron served on various community boards in Melfort throughout his life such as the Health Board, the School Board, Chairman of the Wildlife Federation and Chairperson of Consolation Manor and Legion Place. Ron took pride in having his name on the commemorative plaque at the door of Parkland Place recognizing his contribution to the project. He was involved in hunter safety for over 30 years and was heavily involved with Scouts Canada as his children grew. Ron's final chapter in his working life was as a school bus driver in which he took special pride only equal to stepping in for Santa Clause on occasion.
Ron was born in Toronto on July 27, 1945. He was the oldest son of a family of 3 children. He was predeceased by his parents, George and Olga Misskey and his brother Raymond. He is survived by his sister Grace Hills (husband Dale Hills (pre deceased)).
Ron had a tremendous pride in his family and was quick to share accomplishments and adventures with others. He was also quick to offer support and provide advice. He will be greatly missed but warmly remembered through some tears, many stories and much laughter.
Memorial contributions in memory of Ronald may be directed to the Melfort Wildlife - Hunter Safety Program.
A Private Family Funeral was held.